Savings Accounts
---
Whether it's a lifelong dream or a weekend getaway, Sweetwater Regional Federal Credit Union offers a variety of great savings options to help you get there. They're all NCUA-insured, so you know your money is safe. Our deposit accounts let you earn competitive interest rates while keeping your money totally liquid so you can get to it when you need it.
Share (Savings) Accounts
After completing a membership application, all members of the Sweetwater Regional Federal Credit Union must pay a $5 administrative fee and deposit a minimum of $25 in a Share (Savings) Account. Once you are a member, you are eligible for all benefits and services offered by the Credit Union.
All savings accounts earn the same rate. Money can be deposited into all savings accounts by payroll deduction, direct deposit, or in person at the office. Interest will be earned from the date of the deposit to the date of withdrawal.
Share Certificates
Share Certificates are the perfect way to save your money and earn a higher dividend rate at the same time. Share Certificates can be purchased for 6 or 12 months.
All Share Certificates require a minimum deposit of at least $1,000.00. Dividends are calculated and posted to your account quarterly.
Checking Accounts
---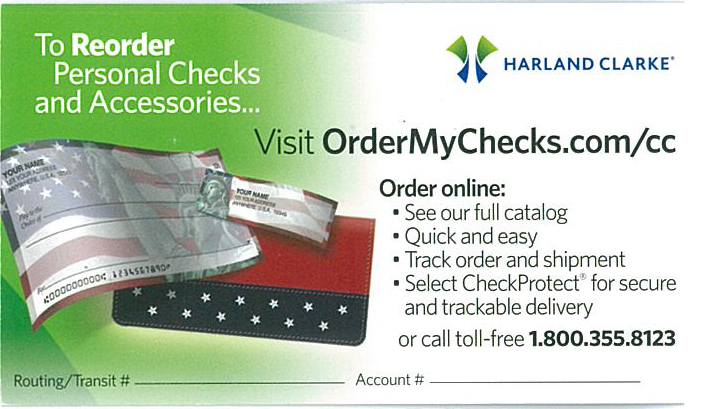 Reorder Checks Online
The credit union Share Draft (Checking) Accounts offer checking accounts with a $50.00 deposit, no per-check charges. A $50 deposit is required to open the account. In addition, share draft accounts are eligible for a Visa® Debit Card, which can be used anywhere Visa® is accepted. The debit card also gives you access to your account from any ATM in the Visa® Network.
Your Share Draft (Checking) Account also comes with Courtesy Pay (Overdraft Protection) if you meet eligibility requirements.
Loan Services
---
Sweetwater Regional Federal Credit Union offers a variety of loan programs to its members including new and used vehicle loans, signature loans and share secured loans.
Since the Credit Union is a not-for-profit organization, it can offer these loans at very favorable rates — often below what local commercial lenders charge. The interest on Credit Union loans is used to pay dividends on members' savings accounts.
Vehicle Loans
Searching for just the right vehicle can be extremely time consuming. Don't waste additional time searching for a place to finance your loan. Our rates are competitive, the loan application process is quick and convenient, and the service you'll receive is friendly and efficient. We finance both new and used vehicles.
Signature Loans
Need extra money for auto repairs, vacation, the holidays or some other personal expenses? Our personal loan may be what you need. These loans don't require any collateral, just your promise to pay, making them a great alternative to credit cards for smaller expenses like vacations, car repairs, or holiday gift giving.
Share Secured Loans
Share Secured Loans are loans backed up by your own savings or certificate account. Naturally, these loans have a lower interest rate because payment is guaranteed by an amount in your savings or certificate account that is equal to the balance of the loan. Your account will continue to earn dividends while you are paying up the loan, making this loan perfect for first time borrowers wanting to establish their credit.
Loan Calculator
Other Services
---
Along with savings, checking and loan services, Sweetwater Regional Credit Union offers a number of other services to its members. These services are simply meant to help enhance your benefits as a member of the Credit Union and they are available to you either for free or at a minimal cost.
Courtesy Pay (Overdraft Protection)
Courtesy Pay is a service that allows us to pay an item presented against your checking account even if it causes the account to become overdrawn. It saves you the embarrassment an inadvertent overdraft can cause. It also helps protect your credit rating.
Visa Debit Cards
Active Share Draft (Checking) Accounts are eligible for a credit union Visa® Debit Card, which can be used anywhere Visa® is accepted. The debit card also gives you access to your account from any ATM in the Visa® Network.
Direct Deposit
Social security, retirement benefits, and most companies offer direct deposit of your money. Your credit union will help you arrange to have your money deposited into your interest earning savings account or checking account. Your hard earned money will begin earning interest immediately.